Darren Heitner was born on February 9, 1985 in Hollywood, Florida to mother Gloria and father Phil. He married his wife Brooke on December 23, 2017 in Boca Raton, Florida, they had their first child Maxx Ezra on March 3, 2022, and their second child Aliya Liv on November 27, 2023, and the two of them love their Cavapoo Charli like she is their child.
Darren has always had a passion for sports, law, teaching, and politics. He has found a way to fuse those passions through his work as a practicing lawyer, arbitrator, professor, writer, and active participant in local Fort Lauderdale governance.
On December 31, 2005, as a New Year's Resolution, Darren created the website that is now known as Sports Agent Blog. As stated in his original article on the website, Darren started the website because he wanted to be a sports agent and had a desire to revolutionize the industry. Sports Agent Blog became the go-to source for sports agent-related information on the Internet and remains an important part of the sports business ecosystem. Pete Vlastelica, President and CEO at Activision Blizzard Esports has said, "Darren knows his stuff . . . In short order he has built SportsAgentBlog.com into an authoritative source of information about the sports agency world. I have no hesitation recommending that anyone work with him."
One of Darren's key sayings is, "Just Do Something," which is his play on the Nike slogan, "Just Do It." He is a firm believer that nobody should fear failure and that success is a byproduct of acting on ideas. As such, in June 2007, immediately following Darren's graduation with a Bachelor of Arts degree in Political Science at the University of Florida, Darren launched a sports agency from scratch and called it Dynasty Athlete Representation. Darren was merely twenty-two years old when he launched the startup sports agency, and his only prior experience in the industry was as an intern at Atlanta, Georgia-based Career Sports & Entertainment in the Summer of 2005.
Darren would develop Dynasty Athlete Representation during his three years of law school at the University of Florida Levin College of Law, where he also served two terms as the President of the Entertainment, Arts and Sports Law Society as well as the Chair of the 2009 and 2010 UF Sports Law Symposiums. The Alligator featured Darren in November 2008 for developing a sports agency catering to approximately forty clients while in law school.
In 2010, Darren graduated from law school and moved to Fort Lauderdale, where he would spend one year as an associate at the law firm of Koch & Trushin PA, a firm that primarily defended insurers in property claims that reached litigation. During downtime, Darren began building a book of business that focused on intellectual property, sports, and entertainment-related issues.
Darren worked at Koch & Trushin for exactly one year. During that span, Darren decided that he preferred spending his time practicing law as opposed to building his sports agency (here is more on that). As such, he pivoted from sports agent duties to practicing law full time. He then moved from Fort Lauderdale to Miami and helped entertainment attorney Richard Wolfe build a brand new firm called Wolfe Law Miami, P.A., with an emphasis on providing services to entertainment and sports clientele.
Darren worked his way up to being Richard Wolfe's partner within two years of beginning to practice at the startup law firm. It was during this time that Darren also began taking on more writing roles and serving as a professor at institutions of higher learning.
In Fall 2011, Darren was asked to create and teach a Sports Agency Management class at Indiana University Bloomington. Darren taught the class, through online technology from his office in Miami, for three years. "With the course only offered from 6:45pm-9:45pm on Monday evenings and being taught via webcam while Darren was in Florida, I was very skeptical at the beginning of the course. However, after the first session, Darren's passion for educating us undergraduate students about the business involved in sports agency management shined through and I can honestly say I thoroughly enjoyed each course," said former student J.D. Gebbie. "Darren provided us with expert knowledge in so many areas of the field and brought in tremendous speakers to educate us as well."
In May 2012, Darren received an unsolicited email from an Executive Producer at Forbes who said, "You have a few fans here in the editorial dept. and we were wondering if you'd have any interest in becoming a contributor to Forbes." Darren would go on to write a regular column under the banner, "Sports Change Agent" until August 2018. Forbes Editor Monte Burke stated that, "Darren has done superb work for Forbes, consistently contributing timely and well-written posts. Very highly recommended."
In September 2012, Darren received another unsolicited email, this time from an Executive Editor at the publishing branch of the American Bar Association (ABA). Darren was asked to write a Sports Law Treatise for the ABA, which was released in May 2014 and titled, How to Play the Game: What Every Sports Attorney Needs to Know. University of Miami professor Claire Zovko is one of many to have given the book five-stars and said that she will definitely reference the book in her Sports Law practice and Sports Law courses for years to come.
Darren authored a second edition of How to Play the Game in February 2018, and a Heitner Legal, P.L.L.C. In the email that Darren delivered to his clients on June 17, 2014, he said that after years of working at other law firms, he determined it was due time to create his own and bring his passion for the law and serving clients to the forefront of a new practice. Six years later, in August 2020, this is what his client Kyle Elliott had to say about his work and the work of the law firm:
"Darren is the best there is. As my business started to grow, I needed counsel for a trademark. A colleague referred me to Darren. I was immediately impressed by Darren's firm grasp on IP law. He is the ideal lawyer — smart, dependable, and wickedly fast at responding to email. After my trademark, I turned to Darren once again, this time for contract work. He delivered a robust contract, quickly answered my questions, and left me feeling confident. Later, I used him for additional business-related legal matters. Again, he didn't disappoint. I love my lawyer!"
Darren has provided legal services to the likes of Drew Rosenhaus, Draymond Green, Fred VanVleet, Iman Shumpert, JuJu Smith-Schuster, Antonio Brown, Johnny Manziel, Terrell Owens, Xavien Howard, Trai Turner, Frank Gore, D.J. Moore, Jim Tomsula, Luis Castillo, Manny Ramirez, Rafael Furcal, Chris Pronger, Jason Belmonte, Paige VanZant, Rick Pitino and Bill Raftery (With a Kiss!).
Mark Burns, writing for Sporting News wrote an article titled, "Let success be your noise: Prominent sports, entertainment attorney forms own law firm" about Darren and Heitner Legal in close proximity to the law firm being founded. It included a quote from client Leon McKenzie, President and Founder of Sure Sports, who said, "Darren has been one of the biggest pieces of our business protecting our interests and pointing out pitfalls and also helping us to increase our brand and presence. When you combine a legal mind with marketing savvy business like Darren does, you can't help but flourish."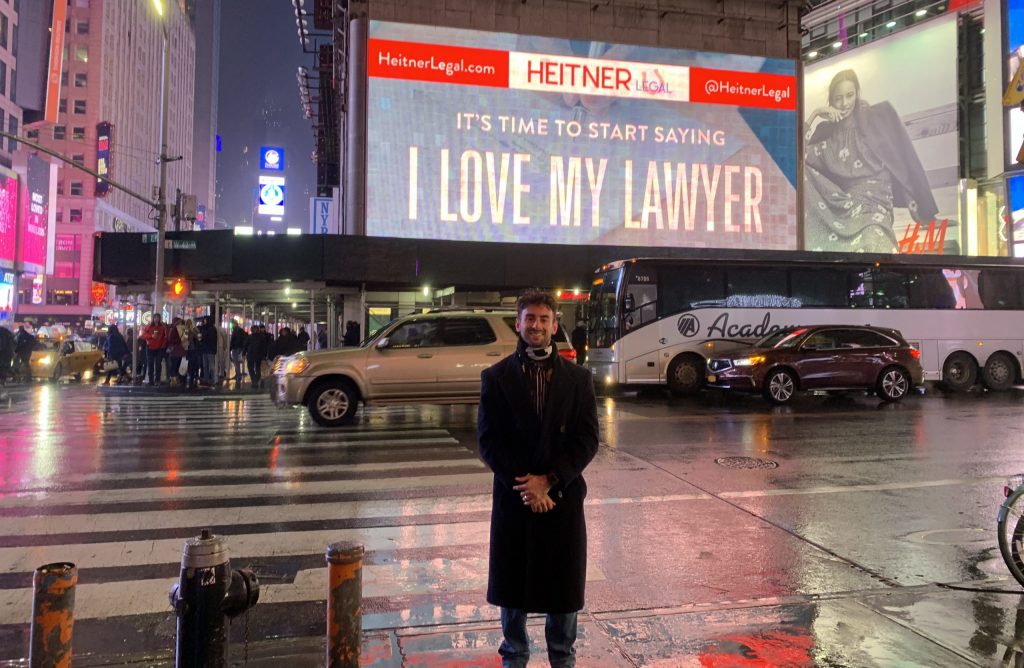 In October 2015, Darren began writing at Inc. Magazine under a column titled, "Sports Inc." He published articles regularly there until August 2018. Also, in 2015, Darren had the honor of being asked to join the faculty at the University of Florida, teaching a Sports Law class for the graduate program in the Department of Tourism, Recreation and Sport Management as well as at the Levin College of Law. Darren would be asked to once again teach a Sports Law course at the Levin College of Law in Fall 2020. Chantel Batista, a student in the Fall 2020 course, stated at its conclusion, "Incredible course. Incredible professor. Would highly recommend this class to any law student." Another student, Devin Connell, said, "This week has been an incredible learning experience with so many wonderful peers and an excellent professor." Darren also began teaching an NIL course at the University of Miami Law School in January 2023.
In September 2019, Florida Representative Chip LaMarca tapped Darren to assist with the development of a legislative agenda premised on providing college athletes in Florida the right to commercially exploit their names, images, and likenesses for economic gain. In June 2020, Florida Governor Ron DeSantis signed the bill into law that Darren helped create with Representative LaMarca, putting Florida in the lead among all states with regard to giving college athletes the ability to make money off of their publicity rights.
In April 2020, Darren began publishing a regular column in Above the Law and separately started authoring a monthly column in SportsPro.
In July 2020, Darren was named as a Board Member on the Parks, Recreation, and Beaches Board in Fort Lauderdale, Florida.
In January 2021, one of Darren's clients, Monkey Knife Fight, was sold to Bally's in a $90 million deal. Darren worked with the company from its inception in 2015 to the closing of the acquisition six years later, mainly serving in the capacity of providing legal diligence to ensure compliance with federal and state laws, as well as on relationships with payment processors, professional sports teams and its eventual purchaser.
In July 2021, Darren assisted Haley and Hanna Cavinder (the Cavinder Twins) in becoming the faces of the new name, image, and likeness (NIL) deals that were made available to college athletes for the first time in history.
Darren's professional honors include being the sole recipient of the University of Florida Levin College of Law Outstanding Alumnus Award in 2020 and being named to the University of Florida's 40 Under 40 list in 2019. In 2021, Heitner was named a distinguished leader in the State of Florida by the Daily Business Review and Best Lawyer in Fort Lauderdale by Fort Lauderdale Magazine. In 2022, Heitner was named to the Top 25 Most Influential Figures in NIL list. In 2023, Sports Business Journal recognized Heitner Legal as the only law firm "Power Player" in NIL.
Darren is often asked to be a guest on radio, podcasts and television, including on CBS, Fox News, CNBC and ESPN.
Separate from his three books and columns at Forbes, Inc., Above the Law, SportsPro, and Sports Agent Blog, Darren has been published in numerous prestigious law reviews and journals. His legal scholarship includes, "Rethinking Regulation: The Case for a New Agency to Regulate Sport," "What if Kaepernick is Correct?: A Look at the Collusion Criteria in Professional Sports" and "Personal Foul: Conduct Detrimental to the Team. Penalty Declined?" all published in the Harvard Law School Journal of Sports & Entertainment Law; "Score a Touchdown, Kiss Your Tattoo, and Get Sued for Copyright Infringement?" published in the Jeffrey S. Moorad Sports Law Journal (Villanova); and "Jay Z Has 99 Problems, and Being a Sports Agent May Be One" published in the Marquette Sports Law Review.
Many of Darren's endeavors have received national attention. In 2019, his client Luis Castillo was claimed to be arrested as part of a Dominican Republic operation against organized crime and Darren cleared the record with the press. That same year, his client Antonio Brown was accused of raping his former trainer and Mr. Brown asked that Darren issue a statement adamantly denying the allegations. In 2020, Darren was hired by trademark collector Martin McCaulay who had filed to register many alternative Washington NFL team names and was being harassed by the general public. Darren effectively deflected the threats and restored peace to Mr. McCaulay's life.
Darren has served as an expert witness and is qualified with the Florida Bar to serve as an arbitrator in litigation.